Affordable Aluminum Ears
Custom cast in aluminum, then heat treated for durability and machinability, these are the perfect addition or upgrade to any B-9. Since they are solid aluminum, they won't chip, crack, shatter, or warp. Due to the casting process, they have a textured finish very similar to those on the original robot costume. If you don't like the "textured look", they can be cleaned up with emory paper to make them perfectly smooth. They could also be buffed to a mirrored finish - it's entirely up to you! The finish is so nice the way they are, you may feel bad doing anything to them!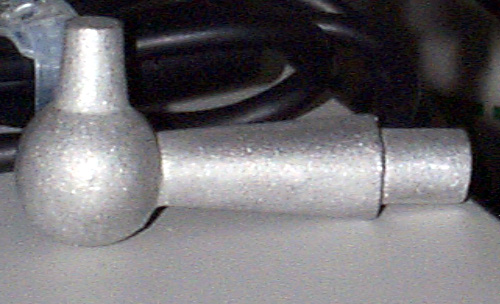 ---
Stainless Steel Spinners
Custom crafted from stainless steel, these pieces have been laser cut, then precisely bent on a hydraulic press to get the proper curvature. After that, they are TIG fuse-welded to a stainless steel rod for easy mounting. This final assembly is then glass beaded to give a nice uniform matte finish, just like spinners on the show. If you want them to look like the 2nd/3rd season spinners, they can be easily painted with the appropriate red and yellow colors.


Below are some pictures of the spinners mounted on the Affordable Aluminum Ears.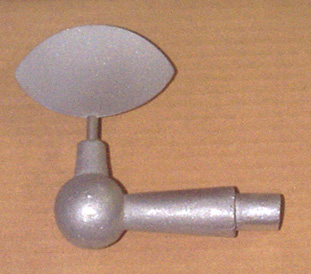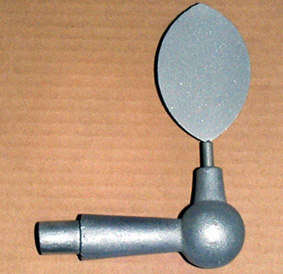 ---
Custom Made Polyurethane Arm Bellows
These arms are professionally molded from Polyurethane by a major bellows manufacturer. We personally toured their facilites and spent many hours going back and forth over the specifications for these bellows. I am extremely pleased with the end result.

Below are some pictures of the arm bellows. The last picture shows a mockup of the arm using one of Scott Sanderson's wrists and a prototype of our soon to be released solid aluminum claws.

These arm bellows can be ordered directly from the manufacturer:

CentryCo
1-800-257-9537
or online at:
http://www.centryco.com

PART NUMBER: B9-ARM (you will need two).
Price: $135.15 EACH.
Like anything else, you get what you pay for!
Be sure to ask for BILL HARTMAN, or put "Attn: Bill Hartman" on you web order, or the folks at CentryCo will have no idea what you are talking about!




---
For ordering information, please contact Bill Kendzierski (JMKWWK@aol.com)
PS, I only check my email a few times a week. I will respond to your email when I read it.